President: Mick Pennington
Guide Technologies
Mick Pennington is the Director of Business Development for Guide Technologies, a leading provider of Enterprise Software for Mid-Market manufacturers and distributors. Mick has over 20 years of experience managing technology businesses ranging in size from startups to large established concerns. A native of Columbus, he earned a Masters of Business Administration from The Ohio State University and has served on the Faculty of Franklin University in both the Marketing and MBA programs. An avid photographer; his photographs have appeared in regional publications and continue to develop commercial and editorial followings.
President Elect: Crystal Vause
Raising Cane's
Crystal Vause is a Marketing Advisor for RCO Limited, a franchise of Raising Cane's. She has over 13 years of experience working on both the client and agency sides of the business with a strong focus in restaurant and franchise support. She graduated with her BA in Communications Studies from Ohio Dominican University and received her MS in Integrated Marketing and Communications from West Virginia University. She has also held the roles VP of AIM and Programming with AMA Columbus from 2008 – 2010.
Immediate Past President: Shelli Welch
Litmus Software, Inc.
Shelli Welch is the Sales Operations Analyst at Litmus, an Email Platform that accelerates your business with advanced email tools that empower your team to deliver the best brand experience and get the best results. She is the Salesforce Administrator and oversees sales operations processes. She has experience in retail, insurance and recruiting with companies such as AXA Financial and The Limited. Welch graduated from Franklin University with a degree in Marketing. She also holds a degree in Business Administration from the University of Cincinnati.
VP at Large: Debra Pack
Columbus Metropolitan Library
Debra Pack is the Marketing Manager at Columbus Metropolitan Library. She leads the organization's digital and content marketing strategies; writes strategic messaging; leads the creative team and video strategy; manages the on-site print center; handles vendor relations and advertising, plus ensures all messaging is on brand and effective. She holds a BS in Journalism from Bowling Green State University where she studied English, creative writing, fine arts and photography. She has been an AMA member and volunteer since 2009; President of the chapter's executive board (2015-2016 / 2016-2017), VP of SIGs (2014-2015) and Digital SIG Chair (2013-2014).
VP, Volunteers: Derik Abbott
Portfolio Creative, LLC

Derik Abbott is a Recruiter at Portfolio Creative, LLC. Derik has 3+ years in the Recruiting and Human Resources industry. He specializes in connecting clients with the finest creative talent in all areas of design, writing, interactive, marketing, project management and more. He holds a Bachelor's Degree in Strategic Communications from The Ohio State University and has studied creative writing, graphic arts, Spanish, business management and psychology. Derik previously held the VP, Sponsorship and VP, Young Professionals roles for AMA Columbus.
VP, Membership: Kate Niewiadomski
Budros, Ruhlin & Roe
Kate is the Marketing Specialist at Budros, Ruhlin & Roe, a wealth management firm in Grandview. In addition to her work on the company's rebranding and website launch, Kate oversees the social media accounts and plans client events. Previously, she worked for the American Society for Nutrition as Member Relations Coordinator, and at Akron-based Smither Information, where she developed and executed strategic marketing plans for technical conferences. Since returning to Columbus and joining AMA Columbus, Kate has served on the AIM and Membership committees.
VP, SIGs: Joel Kohler
Mayco Colors
Joel Kohler is Marketing Manager at Mayco Colors, a Columbus-based manufacturing company producing ceramic glazes and products for artists around the world, where he manages the organization's strategic messaging; manages the web, social and video execution; handles vendor relations and promotions, plus ensures internal and external marketing is on brand and cohesive. He also consults for various non-profit arts organizations on their marketing strategies and branding efforts. Joel holds a BA from The Columbus College of Art & Design and received a MS in Marketing & Communications from Franklin University. Joel is a past president of the AMA Columbus chapter and has volunteered on several committees before re-joining the board.
VP, Programming: Brian Newberry
Hart Associates
Brian Newberry is the Vice President of Brand Leadership at Hart Associates, a results-driven advertising agency that serves clients across Ohio, the Midwest, and nationwide. With over 25 years in the Marketing and Advertising space, Brian specializes in behavioral insights, brand equity, qualitative research, brand strategy, and behavior change strategies.
Chapter Administrator: Karen Kaiser
Kaiser Association Management
For more information on the AMA Columbus chapter, or to contact the chapter regarding events, ticketing, or general inquiries, please contact Karen at administrator@amacolumbus.org.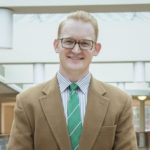 VP, Technology: Nick Chuvalas

Hondros
Nick Chuvalas is the Marketing Coordinator at Hondros Education Group, a national education provider and publisher in the housing industry. At Hondros, he currently manages weekly blog content, freelance relationships, customer-facing emails, organic social, and general brand copywriting as needed. Earning his undergrad (BBA) at Ohio University, he double-majored in Marketing and Management – with a minor in Spanish.
VP, Content & Communications: Jynx Gresser
Jynx Gresser is a Senior Sales Specialist at Sephora, a leader in the global prestige retail, teaching and inspiring clients to play in a world of beauty. As a retail veteran, she enjoys creating lasting relationships with both clients and brand partners. Jynx holds a Bachelor of Arts from Miami University of Ohio and Master of Business Administration from the University of Phoenix. Previously, she served on the Content and Communications Committee as the social media manager and was the Volunteer of the Year in 2017. 
VP, Special Events: Melinda Metz
Melinda Metz works in Community Relations at SourcePoint, the aging services provider of Delaware County.  She oversees the development, implementation, and maintenance of a county-wide community relations effort focused on increasing referrals; and works cooperatively with stakeholders to educate the community about available resources.  Melinda's previous experience has been leadership roles managing internal and external communications and tracking initiatives of various elected officials and candidates.  Melinda was recognized with a national award for project management and has won numerous awards for program management.  Metz earned her B.A. from The Ohio State University in political science with a concentration in persuasive communications.  This is her first year serving on the AMA Columbus board.
Current Board Openings
Please contact president@amacolumbus.org for information about opportunities with AMA Columbus.[/vc_column_text]